AYMN aims to conduct a series of projects that foster the development of well-rounded individuals. While incorporating the United Nations 2020 agenda, AYMN will educate and mentor youth for change. In support of the UN's Sustainable Development Goals (SDGs), AYMN will empower youth with skills that inspire sustainable development in Africa. AYMN will work with both boys and girls, using several varied innovative approaches to mentorship.
BECOME programme
The BECOME programme will focus on mentorship for adolescent boys between the ages of 13 to 18 who lack positive male role models in their lives. The project launch is scheduled for 6-12 August 2018.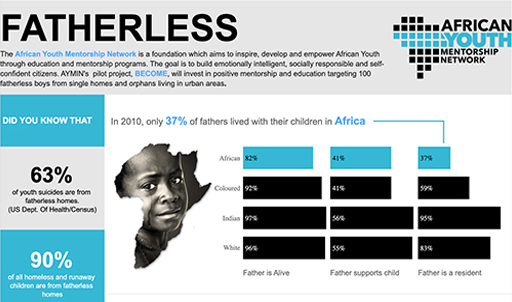 The Story
AYMN have partnered with #VizForSocialGood, to tell the overwhelming story of the fatherless epidemic through images and info-graphics. Prepare to be blown away!
A big thank you to our partners!
Our Goal
The African Youth Mentorship Network (AYMN) aims to inspire, develop and empower African youth through education and mentorship programmes. Our goal is to build emotionally intelligent, socially responsible and self-confident citizens.
About
The African Youth Mentorship Network (AYMN) is a registered Association in accordance with Articles 60 to 79 of the Swiss Civil Code.